Paris is monumental, by its size of course but also by its rich architectural heritage! One of the symbols of the Capital, its most famous monument is the Eiffel Tower, this "Iron Lady" with its unique look offers an unparalleled view to its visitors. Not far away is the Arc de Triomphe, just as emblematic. Full of history, it dazzles during the beautiful days when you can see the sun setting in the hollow of this great arch. Another must-see is the Notre-Dame-de-Paris cathedral. This masterpiece of Gothic architecture, lets you admire its sculptures, its nave, its towers and even its crypt! Equally evocative and having inspired writers and filmmakers, the Basilica of the Sacred Heart houses the largest mosaic in France and enjoys an incredible panorama from the top of the Montmartre district! Paris is still its mythical squares: the Place de la Concorde with its two fountains, its rostral columns and the incredible obelisk of Luxor, the Place de la Bastille with its famous July Column which commemorates the revolutionary days and its very modern National Opera of Paris, the Place de L'Opéra which exposes its magnificent Opera Garnier, etc.
The Eiffel Tower ("Tour Eiffel")
The Triumphal Arch of the Champs Elysées ("arc de Triomphe")
Louvre Museum ("Musée du Louvre")
Orsay Museum ("Musée d'Orsay")
The Latin Quarter with the Pantheon
Montmartre and the "Sacré-Coeur"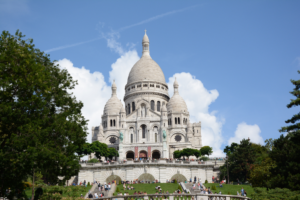 Subway, train, streetcar, bus... The Parisian public transport network serves the city : https://www.ratp.fr